Eierland is now the name for the northern part of Texel, which covers the Eierland polder and De Cocksdorp. Eierland used to be a separate island. This island was named Eierland, meaning egg land, due to the abundance of bird's eggs which lay for the taking. Huge numbers of rabbits lived there as well. The island was leased. For centuries the lessor of Eierland also managed the ferry service to Vlieland. The present ferry boat had a forerunner in the 16th century.
Silting up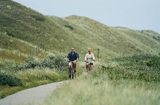 The sea gully between Texel and Eierland gradually silted up. The two islands grew further together due to the construction of the Zanddijk. This dyke was made of sand and planted with helm grass, which kept the sand together. This is now a high dune which gives beautiful views of the Slufter.
Nicolas De Cock
Vast mudflats took shape behind the dyke. In the course of time grass started growing here and sheep could start grazing the land. Eierland was turned into a polder in 1835 due to the efforts of a wealthy business man and ship owner Nicolas De Cock. Together with other entrepreneurs he bought the land on the outside of the dyke from the state. 1500 workers were employed and within half a year the area was surrounded by a dyke.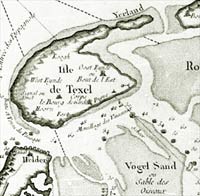 The post for the neighbouring island of Vlieland was transported along the new road, de Postweg, in the polder. This replaced the route alongside the dunes which had been ridden on horseback by post workers. In the 17th century there was already a fast post route from Amsterdam to Texel and Vlieland, for the Amsterdam ship owners needed to be able to communicate quickly with their ships on the roads. The ships which lay in anchor by Texel received their post within 10 hours. A post worker then brought the post for the island of Vlieland to the ferry.
Roggesloot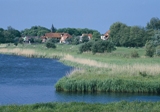 The village of De Cocksdorp was founded by the harbour at the entrance to the Roggesloot. This was an old gully which thanks its name to the many , (in dutch 'roggen') which swum there. The settlement was first called Nieuwdorp, meaning 'new village', but was soon renamed as De Cocksdorp, in honour of the influential Nicolas De Cock.
Change
Eierland was a desert like area which was plagued by sand storms. It was a hard life for the inhabitants. Only later, due to different management, did the soil become fertile.