Picturesque narrow lanes surround the medieval Maartenskerk church in Oosterend. The scattering of shops, restaurants and a pub form the centre of village life. Oosterend is surrounded by traditional farms and green meadows.
Originally agricultural
Originally, Oosterend was an agricultural village. On the higher grounds, farmers settled who, taking into account their proximity to the sea, must have also occupied themselves with fishing. Whaling was also not unknown here. Though Oosterend is not immediately located on the coast, the population is still largely dependent on fishing. In 1890, 69 owners of blazers (little wooden ships) lived in Oosterend, compared to 44 in Oudeschild.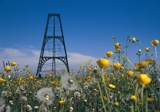 Remarkable fact was that the larger blazers belonged to the people of Oosterend, who often fished the North Sea and remained offshore from Monday until Saturday.
Oosterend had its own harbour in the vicinity for a very short period. The harbour was located near the iron cape, currently located at the end of the Oostkaap.
Oyster catching
In 1843, a period of great interest for the oyster, a number of inhabitants of Oosterend managed to accomplish a special harbour for oyster catching to be constructed close to Oosterend. Soon the decline of oyster catching began and the harbour's fate was sealed.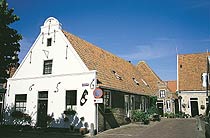 In 1852, there was no money for maintenance and 1859 the harbour of Oosterend was taken out of use by giving the sea wall back its old shape.
Nowadays the fishermen from Oosterend keep their boats in the harbour of Oudeschild.
Oosterend Present
Every five years the village of Oosterend organises a village party known 'Oosterend Present', during which the whole village is decorated around a theme and the villagers perform a huge open air theatre production.