De Waal is surrounded by farm land. It is a traditional village of pristine beauty. There is a museum, gallery, good restaurant and other facilities can be found nearby in Den Burg.
The smallest village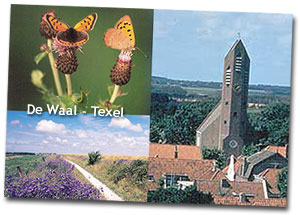 De Waal is the smallest village of the island and like Den Burg, Oosterend and Den Hoorn it was built on one of the boulder clay emergences. On the north-western side of De Waal (Polderweg) the height of the village compared to the polder Waalenburg is clearly visible. Before this polder was reclaimed for the first time (1436) the sea could flow freely between the village and the high lands around Den Burg. De Waal has slighlty more than 400 inhabitants.
Dams
The inhabitants of the different small communities connected De Waal and the higher parts by means of dams. It is assumed that the Bomendiek, the pretty southern access road to De Waal, is one of those first dams. Later, this dam was raised further and served as a dyke until the reclamation of the polder Waalenburg.
Cultural Historical Museum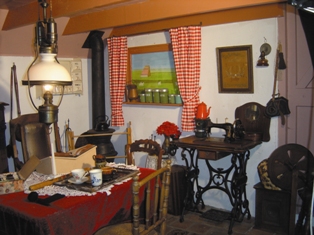 At the Hogereind, in the heart of De Waal you'll find the Cultural Historical Museum. The collection in the authentic farmhouse gives a diverse impression of past life on Texel. The central themes Arable Farming, Grassland Agriculture, Flower Bulb Cultivation and Transport are presented each year with a new look.
Sommeltjespop
Sommeltjes are a sort of goblin or troll which appear in folk stories on Texel. According to these stories, these beings dance on the Sommeltjesberg, an excavated burial mound near De Waal. The free festival 'Sommeltjespop', which is held yearly in De Waal, owes its name to these beings.