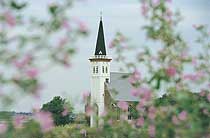 The beautiful church of Den Hoorn with its white tower is the most frequently photographed subject on Texel. The traditional buildings are reminders of the days in which pilot ship sailors and whale hunters occupied this high-lying village on the southern tip of Texel.
't Klif
The beach is just a short journey through the dunes from Den Hoorn. Den Hoorn also boasts various quality restaurants and a theatre restaurant.This southern-most village with its striking church came about after 1398, after the settlement of De Oude Hoorn was burnt by the Hoeksen during the Hoek and Kabeljauw Disputes. The current village came about on one of the boulder clay emergences, 't Klif, and was situated on the coast on the south-eastern side.
Agriculture
In those days, the population of Den Hoorn lived off agriculture, cattle breeding and, to an important extent, fishing. The 'dune farmers' sheep grazed in the vast areas of dunes around Den Hoorn. When more land was impoldered, agriculture and cattle breeding became more important.
Piloting ships
In the 17th and 18th century the Dutch merchant navy sailed the oceans and a new means of livelihood came about in Den Hoorn; piloting ships. The importance of this piloting work for Texel is demonstrated by the fact that in 1781 there were 122 pilots living in Oudeschild, 45 in Nieuwe Schild and 99 in Den Hoorn.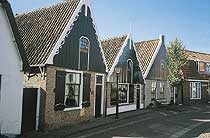 In 1783, 1,805 ships were piloted off Texel. This livelihood soon ended after the construction of the Noordhollands kanaal (1819 - 1824) and the Noordzeekanaal (1865 - 1875).
Furthermore, a state pilot service was instituted off Texel in the mid-19th century. Now, only the 'Loodsmansduin' and several pilot's houses in the Herenstraat testify to this profession, once so important to Den Hoorn.
Flower bulbs
Several decades after the end of private piloting, a number of inhabitants of, among other places, Den Hoorn found a new livelihood: the cultivation of flower bulbs. Because water management was not optimal at that time, initially only the higher grounds, the region along the dunes near Den Hoorn, were suitable for this cultivation.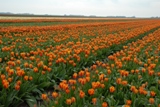 In Spring, bright yellow daffodils, a product for which Texel provides excellent conditions, still bloom on dozens of acres surrounding Den Hoorn. Flower bulb cultivation Various flower bulb growers in Den Hoorn sell flower bulbs at roadside stalls.
In the recreational woods De Dennen near Den Hoorn there are many snowdrops to be seen in early spring. These are the remains of the snowdrops brought here by a bulb grower at the start of the 20th century. Bluebells also flower here in April.