De Koog is the only actual beach resort on the island. The village offers everything a tourist could wish for. After a day on the beach you can stroll to the main street 'de Dorpsstaat' in the centre of De Koog to relax on a café terrace, enjoy a meal or look around the various shops. In the evening you can enjoy the nightlife in the cafes and discos of De Koog.
Popular seaside resort

Around 1930, the Chambers of Commerce in Alkmaar wrote about De Koog: 'We have no doubt, that within the foreseeable future De Koog will be one of the most popular seaside resorts in our country, because it possesses all factors that might make a seaside resort attractive to strangers'. This statement will have been made, because De Koog is located almost directly on the seaside, with only two lines of dunes separating it from the beach.
Fishing village
Long before its prime as a seaside resort, De Koog knew a prime as a fishing village. The name De Koog is derived from the 'cooghen', the name of impolderings at the beginning of the 14th century.
'Cooghen'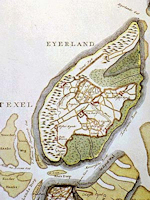 Dried up areas were taken from the sea with small dykes on a very modest scale. These 'Cooghen' were flooded by the sea many times, sometimes resulting in hundreds of sheep drowning. After every flood the dykes were strengthened to strongly limit the danger of breaching. Now, these dykes are no longer visible; only the names of areas and roads in and around De Koog, such as Oude Dijkje en Everstekoog function as reminders. After this reclamation the village was able to originate and prosper as a fishing village. The importance of the village is best illustrated by the fact that in 1514 Den Hoorn en De Koog, both with 140 houses, were the second largest villages after Den Burg with 188 houses.
Silting up
The decline of the village as a fishing village was caused at the beginning of the 16th century through the silting up of the deeper channels, preventing further access to De Koog for the fishing boats.
The fate of De Koog

Heavy storms, followed by floods in 1559 and 1570 and the construction of the sand dyke between the village and the islet of Eierland in 1629/1630 sealed the fate of De Koog. Many of the inhabitants fled to Den Hoorn, which grew into the second village of Texel. In 1622, De Koog had only 649 inhabitants, Den Burg had 1,568 and Den Hoorn 1,258 inhabitants.