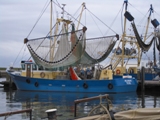 Oudeschild is the home harbour of the Texel fishing fleet and its rough and ready charm makes it especially attractive to tourists. The harbour is full of modern fishing boats at the weekend. From Oudeschild you can take a boat journey on the Wadden Sea, experience the island's colourful VOC history in the Maritime and Beachcombing Museum and of course enjoy a fresh fish meal in one of the harbour side restaurants of Oudeschild.
Skilsloot

The village of Oudeschild came about at the start of the 17th century, out of a group of houses at the end of the Skilsloot. The Skilsloot was the canal, on which the small boats transported the barrels of drinking water from the wells at 'Brakestein' to the waiting ships at the Roadstead of Texel. This iron-rich water was non-perishable and, therefore, loved by the shipowners.
The 'Orphan's wells'
These wells just outside Oudeschild are called the 'Orphan's wells', because they were owned by the orphanage in Den Burg, which drew some income from the lease of the wells.
't Schilt

As in Den Hoorn, a large number of pilots settled in Oudeschild. Busy shipping traffic in the 17th and 18th century contributed to a strong growth of Oudeschild, that was originally known as 't Schilt
As early as in the 17th century, another village came about near Oosterend, which was inhabited mainly by those involved in shipping. This new village was called Nieuweschild and the village of 't Schilt was given the name Oudeschild.
Maria Tesselschade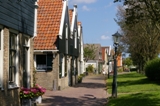 Eén van de reders die schade ondervond van deze ramp, Roemer Visscher, vernoemde zijn in 1594 geboren dochter naar de ramp. Maria Tesselschade is bekend geworden als toonaangevende persoon in de Muiderkring.